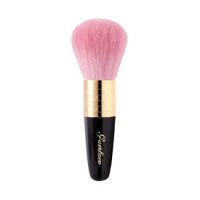 Awesome Brush - Worth the $$$$$

Gorgeous looking brush with black handle & pink bristles. Comes in a black velvet pouch with magnetic closure. I carry this with me to reapply powder, highlighter, bronzer and blush as it's travel friendly. It's compact in size but does the same job as a regular size brush. Distributes color evenly and smoothly. No blotchy deposits of color with this brush.

Lovely brush

One of my favourite brushes ever. Perfectly takes meteorites powder. Small sized(12cm), lightweighted and elastic pink bristles - perfect for girls*)

The best brush for Meteorites Pearls

I recently discovered and fell in love with Guerlain's Meteorites pearls finishing powder. The powder comes with a round sponge applicator and since I never use those type of applicators and really didn't have any extra powder brushes laying around, I bought the Meteorites brush to apply the powder. Guerlain's Meteorites brush is said to be the perfect brush with which to blend the various pearl...read mores and then to apply with just the right soft, veil like finish. The brush is about 5 inches long and comes in its own velvet pouch for storage. I love that it comes with a pouch because it keeps it clean and it keeps the makeup drawer I store it in from getting the powder in it. The brush retails for $37 and has a white handle with a silver toned metal band and pink bristles. The bristles are soft on the face but are densely packed and stiff enough to pick up the product by swirling the brush around in the tin with the Meteorites pearls. The bristles are made of natural goat hair so they aren't as soft as some other brushes I've used but I don't find them at all scratchy or harsh. I think to pick up the colors from the pearls there needs to be some stiffness to the brush. I find that the finish I get when using this brush with the pearls is really perfect and flawless. This is the only application method I have ever used for my Meteorites pearls but it works so well that I dare not try any other type of brush or applicator. So far this brush hasn't shed one bit. It seems to be very well made and I feel that it will last a long time. I've only used it with the Meteorites pearls but I bet it would work well with other powders or maybe even blush. I think for anyone who uses the pearls it is definitely worth buying the Meteorites Brush.

Back
to top