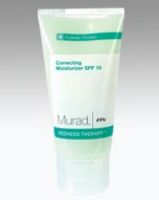 Editor's Rating & Review
This mint-colored moisturizer promises to color-correct your skin by balancing out redness. There's red-out going on at the cellular level, too, with gogi berry and licorice extract. So is it enough to go without makeup? Nope. The tube's triangular design makes it hard to get at every last drop, which is a bummer on such a pricey product. The moisturizer is quick-absorbing and the SPF 15 is a nice plus, but why not a 30?
Reviewed by the Total Beauty editorial team on 09/25/2007

How we review products
Not What I Expected

This is a very, very lightweight moisturizer. Did not notice any difference. i would have been better off buying something cheaper.

Didn't releive my redness very much

I tried this for a few weeks, but my skin was still noticeably red. It was not greasy, though, and having an SPF was a plus. It did not irritate my skin, either, and mine is pretty sensitive. I ended up on a prescription gel which is clearing up the redness, so I probaly will not buy this again.

pretty good

I get dry, red skin in the winter. I bought this with a gift certificate, otherwise it's too expensive for a college student. Not enough SPF for me. It isn't greasy and made my facial skin feel good. It took some redness away, but not enough to "correct" it. I probably won't buy again because it is so expensive.

Back
to top