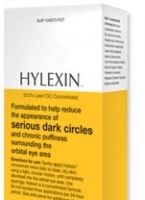 Editor's Rating & Review
Persistence (twice daily use) is the key to seeing results with this product that "reduces hemoglobin degradation" to make dark circles fade. We cringe at the warnings on the tube: "You may feel a moderate sensation of warmth," and, "use sparingly. Hylexin is a highly-concentrated formula." Take heed; a more-is-more attitude could leave you with red, itchy circles. But if you're desperate, it's worth a try. It's pricey but there's an out: a 30-day money-back guarantee.
Reviewed by Kristen on 09/21/2007

How we review products
SAVE YOUR $$

DOESN'T WORK!! EXPENSIVE, WASTE OF MONEY.

Bremenn Research Labs Hylexin Eye Cream

This product is a terrible waste of money. I used it faithfully twice a day for three months, and gave up when I saw no difference. I have better luck with drugstore products. The money back guarantee? Forget it, good luck trying to get your money back, the company makes all kinds of promises and claims, but they don't stand behind their products. There are far more effective products that aren't nearly as expensive, don't believe the hype, it's just hype.

No more dark circles

Very good product. I noticed the results in about a week.

Back
to top