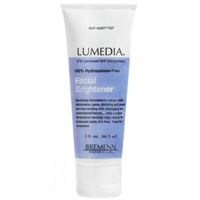 couldnt use it b/c of the density

i bought this like i buy anything which claims to lighten or even your complexion out, and i never got to see if it works...the cream is too dense, i just felt like i had a heavy layer of wax on my face or something. i tried to thin it out by applying it with wet hands but i still couldnt get past the feeling it left on my skin. i cant comment on the efficacy of the product at all, all i can say is it seems very thick....

unsure

I got a few samples of this and used it but I don't think I noticed enough of a difference to spend what this costs!

A Comparison Between Lumedia and Murad Hyperpigmentation Treatment

I tested the two products on my hands. There was a visible difference that Murad ($85) beat out its competition. The age spots on one hand were considerably lighter than the other hand. The caveat with any treatment like Lumedia or Murad is that you MUST continue using products like this to keep your hands free of spots. Of course, and wear sunscreen.

Back
to top