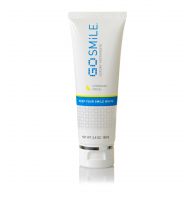 lemon!

yeah! i think lemon is the best thing for your teeth/breath. i realllly hate mint for oral care stuff, i do like mint candy sometimes but i dislike it in hygienic things....lol. this toothapste is so refreshing and pleasant and makes you feel so clean...and i think its a charity contributor too, which is great, b/c you have to buy toothpaste anyway, so you might as well be helpful. oh, and its wor...read moreth a little extra money too, b/c its not so harsh as reg. national brands, if your sensitve to chem. like i am.

Go Smile Lemon

I am not fan of sweet toothpastes - so not sure why I even gave this a second thought. But turns out its very refreshing and not too sweet. Because I switched between using this one and another Go Smile one - the toothpaste got a bit dry towards the final days... and crusty. Really crusty around the mouth. So, my thoughts are to open it and use it all until its gone. Then try another one of ...read moretheirs separately. Regarding the product working on whitening.. I'm really not sure that I noticed any difference in whiteness. My teeth are not really white naturally - so it wasn't a fantastic enough change so that I would give it the highest marks.

LEMON-ISCOUS!!!

Absolutely wonderful! I hate the taste of toothpaste and how it never leaves my teeth perfectly clean no matter how long i brush for. GOSMILE lemonade smile not only has a great taste but it leaves your teeth feeling clean and polished better than going to the dentist!!!!

Back
to top