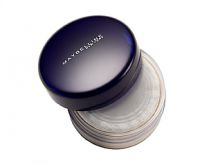 Awesome

I always wear this, it makes me matte and I have oily skin so I really like that. I have used a lot of expensive products and this works better than all of them and it's so affordable.

So handy!

Loose powder isn't something I use daily, by any means, but I love having it handy when I need it. This particular powder has been perfect for every occasion I've ever needed loose powder. I bought this years ago, I believe in a translucent shade, and I'm just now starting to run low. Not only because I don't use it super often, but it's such a great powder, a little bit goes a long way. The packa...read morege is designed well so I haven't had any disastrous loose powder spills (except one that was my own clumsy fault). I threw out the puff that was included in the jar as soon as I opened it and apply this with a fluffy powder brush. Even when I apply this over oily skin, or skin that is still a bit sticky from applying sunscreen, this powder blends like a dream. It gives me just as much coverage as I would expect from a translucent loose powder--that is, not much at all. It smooths my skin and helps control oil, but make note that if you want to cover imperfections, you'll want to use something heavier first, or at least spot treat with some concealer because this powder will not hide anything. I love it as a finishing powder, over sunscreen (as mentioned above) or lately over BB cream. I love my BB cream, but I still prefer a powder finish. I also dust a thick layer of this powder under my eyes before applying eye shadow that I know will leave sparkles or a layer of shadow dust under my eyes. After eye makeup application is finished, a gentle wipe with a tissue takes away the excess eye shadow AND loose powder without damaging the rest of my makeup. When I run out of this I will most definitely purchase again!

Pretty impressed.....

I have really oily skin and needed something to take away my shine. I bought this due to the many great reviews on this. I'm glad I listened and ended up buying this. It has a matte finish (just what I was looking for!!!) Throughout the day during the summer I had no oily forehead. This powder sure absorbed all the oil and left my skin shine free after 8 hours of working. The only thing I didn't ...read morelike about this was how dull my skin was after applying this. I always have to highlight after just to keep my glow on. Also, the product is not as finely milled as I would like it to be so my skin ends up looking kind of blotchy.

Back
to top