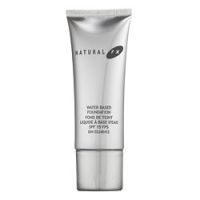 perfect makeup

this is a really good foundation that covers very well. i suggest people who try this HAVE to use the setting powder after to have the look its ment to look like. also, theres great shade and it doesnt damage skin

Really good

This has great coverage and lasts long. It's a bit dewy for my oily skin but in cooler months is perfect. Blends easily and you only need a little. Full coverage , very creamy.

My HG foundation

Every single time I get lured in by an exciting new foundation promising "flawless skin", "natural coverage", "HD perfection", something happens with it and I end up disappointed. This, on the other hand, is the one I fall back on, that NEVER disappoints me. It looks humble in its little squeeze bottle, but I swear it does everything all foundations promise but usuall...read morey fail to deliver - give you natural-looking, perfect skin. It doesn't budge in horrible weather, and it does not break me out. It provides buildable, medium to full coverage. Unlike the Cover FX cream, it doesn't require a primer to make it spreadable since it has a nice spreadable consistency all on its own (primer probably would be good to help it last though), but its thick enough to be a dual concealer/foundation if it needs to be. Thank you Cover FX!