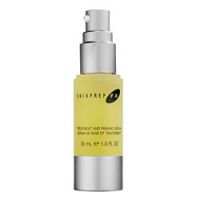 Wore very well... I'm just shiny!

SkinPrep FX Treatment and Priming Serum by CoverFX is just that. It's treatment AND a make-up primer. I'm on a bit of a primer kick lately because I want to help everyone find the right one for their skin woes. I love, love, love how much they focused on the skincare aspect in this product. I think it's absolutely amazing how much good stuff they were able to pack into suc...read moreh a small bottle. I honestly don't think I've ever tried anything with Vitamin F in it before. I tried this and I was really impressed with it overall but I'm afraid it will do nothing to absorb any excess oil on your skin. It held up well under warm conditions, my make-up was still "on" yet I got pretty greased up after a few hours. Thank God for blotting papers! I think it would be wonderful for a more mature, dryer skin type or for anyone who wants an extra kick in their regime to give aging a kick in the butt. I am interested in trying more products in their line though, it looks like they do their research and search for the best ingredients.

was skeptical

I thought this would break out my face b/c I tend to steer towards oil-free, gel-like primers. I like the fact that this is a serum and primer in one, cuts out prep time. I haven't noticed any significant changes yet, but its not a bad product. My skin feels somewhat smoother.

very nice addition

I bought the CoverFX foundation and found it very thick and heavy. On my last trip to Sephora I was given a sample of the priming serum and wow what a difference. My otherwise thick and clay like cover-up went on smooth and creamy. I am definitely going to purchase this assuming it isn't discontinued.

Back
to top