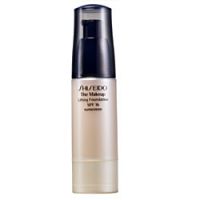 Shiseido The Makeup Lifting Foundation SPF 16
As low as
Simply Luxurious

This is the smoothest prettiest foundation ever. I have been using lapraire foundation @ 165.00 per bottle, while it is wonderful, this is even better and at a great price. I am 53 years old and upon application i immediately noticed a difference. my face was flawless and glowing. It wears very well and you will not be dissapointed.

Great (so great my dog ate it)

I bought this back in December 07. Bit pricey but a little goes a long way -- and the coverage is perfect. Within a few days of use, people commented on how well my skin looked. Unfortunately, my dog took a liking to it and decided to chew on the bottle so I am about to go purchase some more.

This is a great product!

I recently purchased this product and love it. I have been using Bare Minerals for years which did not hold up all day. I have been very happy with the Shiseido as it has kept my redness under control and I am not having to reapply at all during the day. It is spendy but you only need one pump to cover your entire face nicely. It should last for a long time. It also helps decrease the appearance of lines/wrinkles. This is a great product.