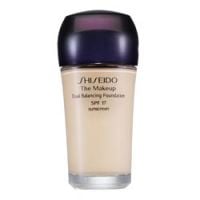 Lightweight Lovely

Superlight, supersoft, supernatural. The con is the lack of shades though, if you have more pink in your skin as your primary undertone then these foundation shades may not be the right choice as they can be either very orange or yellow on certain skins. This fluid is very much like an emulsion when it is applied to the face, quite lighter than creamier ones and it blends well without streaking....read more I also notice there are skin nourishing properties in Shiseido's foundations and because this is dual balancing, this is perfect for combination skin. This was meant to moisturize drier areas and absorb oil in oilier zones and this did do the trick for my oily combination skin particularly. For dry skin, however, I feel as if this may accentuate any flakiness after a few hours as it did dry my skin a bit but not to the point where it appeared obvious. This makes skin flawless and one of the few that didn't feel as if it was congesting my skin. It can be very sheer to a medium coverage type of formula and is a bit scented. I probably won't be purchasing this again until the winter because I've tanned a bit and 040 has gone lighter while 060 is too olive for me.

It's nice

I used this for a long time. Had it in o20 which was a bit light for my nc25 skin. I'm not sure why I stopped using it. It was ok. Lightweight

Lightweight and clean looking

This foundation provides excellent coverage (medium to full). I like it because it makes my skin look clean without that overly made up look many foundations with full coverage have. It feels light upon application and a little goes a long way. I apply it with a foundation brush. It blends well into the skin and I sometimes do not set it with setting powder to achieve a more casual look. It also ...read moredoes not feel greasy. The price is great ($35) because compared to Chanel foundation ($45 - $54) this brand will give you high performance without the high performance price tag. I have been very happy with all of the Shiseido products I have purchased and strongly believe in Japanese technology. Previously, I was a French snob and only used French manufactured products because of their high performance reputation.