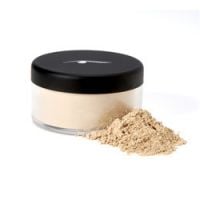 AMAZING COSMETICS VELVET MINERAL POWDER

I have used bare minerals in the past and while I liked the idea of mineral makeup, I was getting a reaction to the bare minerals..then I tried laura mercier loose minerals and had the same itchy reaction. After reading about these products I realized it must be the bismuth oxychloride..so I went on a search for a mineral foundation that didn't contain bismuth and I found amazing cosmetics velvet ...read moremineral and I love it! First of all the color light golden is a perfect match for my skin, it gives me amazing coverage, and it is long lasting! I live in houston where it is always hot and humid and I swear this is sweat proof as long as you are not wiping away sweat but blotting it away. Also I find this lasts longer if it is set with a setting powder..I use clinique translucent blend face powder. I have this in the loose version and the pressed..I find I can get better coverage with the loose minerals, and I like the pressed for travel since I really hate traveling with loose minerals. Overall I think this is a great product! This is for the pressed Velvet Mineral Powder.. This is good for people who don't like to wear a lot of makeup. I am light skinned with combination skin and slight acne on my cheeks. I just turned 30 and stated to use make-up to try to hide my face imperfections (acne scars, open pores, small spot of sun damage). All the things i mentioned are minor but I don't feel comfortable not covering them. I started using this pressed powder a year ago but I only use it with a brush. I love the way it makes my skin looks, it makes it look flawless and is if I was not wearing make-up at all. I don't wear a lot and can still see the acne scars unless I use concealer to hide them. My sister is a make-up fanatic and has tried tons of powders and feels this is the best out there. She recommended to me since I am a beginner with make-up and I can say I love the way it hides imperfections but still looks natural. For $30+ is worth the try. I purchased the set which included the concealer, pressed powder, and the mineral makeup and I'm sold on it. Amazing's Velvet Mineral has beautiful coverage w/out exposing my pores. I even brush it on my decollage. I can't say enough about it. My skin gets a little oily in summer and dry in winter and the makeup pretty much adjusts to my skin. I LOVE it!!!

thumbs up

I like it alot, give it a thumbs up

Not for me

This product is alright, look great on my sisters skin tone, and she says she absolutely loves it, best she's ever tried, but for me, I can't seem to find a shad that matches me! My face always looks too dark, or too light when compared to the rest of my body. It's hard for me to find a match. One plus, tho, is that, even with my extremely sensitive skin, I didn't not have any sort of breakout aft...read moreer the use of this product! Would be highly reccomended to people who don't use cream foundation under their powder!