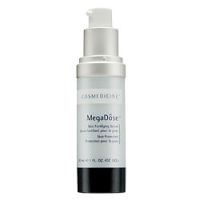 Soft But Stinky Skin

This product is great for softening skin, but has a total medicine smell that is not great at all. The formula is light and really goes deep to moisturize and define skin, but the smell is not worth it.

Stinks !

It is a shame that all the Cosmedicine products stink. I held my nose and tried this serum for several weeks. Not worth it ! No visible effect on my skin just an attack on my nose.

Cosmedicine Megadose works!

Most of these reviews are a year old or older which is not fair to the brand. While Megadose does has a "unique" scent to it, they have reformulated and the scent is less noticable. The creator of the brand does NOT add fragrance or even "masking" fragrances to his products because they are designed for EVERYONE including people with sensitive skin and fragrance can cause irrit...read moreation. When using the product you have to be consistent to see results! Otherwise you are wasting your money. Everyone has different results using skincare which is why there are so many brands to choose from otherwise we would all be using the same thing! And no.... using a product for one week doesn't mean it doesn't work! You need to use it for at least a month if not longer depending on your age and how damaged your skin is.

Back
to top