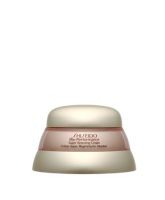 Very moisturizing, good for night

A bit greasy for the day. Great for night cream. Yup pricey.

Moisturizing but Pricey

Very moisturizing night cream, but it did break me out and it is too expensive. I have oily skin and used this in the winter time. When I applied it at night, the next morning I had a new break out. I am positive it is from this cream. It really hydrates the skin and plumps it up, but the high price and break-outs make me have to give it a bad review.

Too expensive - there are better for the price

At age 55 you really start to get serious about effective skin, Shiseido has a wonderful feel on the skin and for $96.00 it should. But these days when it is all about economy and getting the most for your money - my vote is for E. Burnham Retinol Ultra Skin Care Creme that costs on about $28.00 for a full 1 7/8 oz jar, and it lasts for about two months, and well the results are amazing. They even...read more offer a free sample - just enter FREE as the Discount coupon - at their website eburnham. That's my two cents. I love products and Shiseido is wonderful but for my vote eburnham's retinol ultra skin care creme is the best.

Back
to top