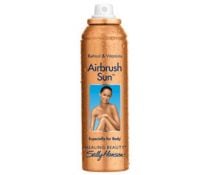 Smells bad

I hated the smell of this product. I put it on before I went to bed one night and woke up and I hand I take a shower because the smell got to me so bad

worked for me!

I really liked the color of the product; it wasnt orange at all. My only problem was streaking on my arms and feet. i tried it again but with moisturizer a few days later and that semed to take care of the streaking. i wouldnt listen to the directions and lightly rub it in like it says. I would definitely use this again.

I had to improvise

I was very disappointed with this product. It was advertised heavily when it first came out so I gave it a shot. It was very streaky and looked orange. I had to improvise and mix it in with Sally hansens air brush make up for the face and I had excellent results. Sometimes I mix it in with a really cheap foundation that matches my skin tone. I apply the foundation first to my body and face than wo...read morerk the airbrush tan in so I can control the color. The result is really nice but it smears a little on clothes.

Back
to top