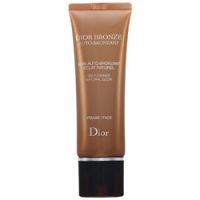 A Plus Bronzer.

A must have bronzer. It give a very nice tint. I use this product all year long. No need for panty hose with this product.

Not For Me

I was really excited to try this product, as I've read some good reviews on it. It just didn't work for me. The color was way too light but I somehow still ended up looking orange. For the money I spent on it, I expected to look tan, but I didn't. I have a friend that uses this and her tan always looks great, but I guess it just doesn't work with my skin tone. I guess it smells ok, but the...read more next day it smelled like all self tanners do…gross. My elbows and knees looked more orange than the rest of my body. I wouldn't say this tan looks natural at all, it was super unflattering! I think this one may be best for people with very fair skin because the color is so light. If this product works for you, you're lucky you didn't end up looking like I did. I feel like I wasted my money on this one. I will not be repurchasing.

Ok But Smell Overpowering

This self tanner worked pretty well but I just couldn't get over the overwhelming smell. It smells a lot like perfume which I don't really like too much of in my self tanners (unless it's tropical or coconut!). It's a shame because the tan I got with this was good. It looked very natural on my skin. I usually like my color a little darker but this gave me a medium to almost medium-light appear...read moreance. If it wasn't for the smell, I think this self tanner would make a good choice as a "winter" or everyday self tanning lotion. It also lasted quite a while on my skin. After 4 days, I could still see some of the original color. Obviously it had faded some, but from a distance I still looked like I had a sun-kissed glow. Anyway, this is a good self tanner, but I probably won;t use it once the bottle is empty because of the overpowering smell.

Back
to top