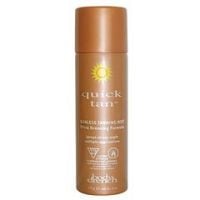 best self tanner!

I am always weary to try self tanners because of the streaking or orangey look I always seem to get. I tried this one and I absolutely love it! No streaks, not orange at all, I have actually stopped going to the tanning bed since I found this product!

Best Self Tan Product Ever

As a self-tan junkie, I am 100% confident in saying that above any other self tanner product EVER made, this one is the BEST! I have used sprays, creams, gels, towelettes, mousses, lotions, and every other kind of potion and hocus pocus. Quick Tan is easy to use, delivers a consistent tinted spray that smells delicious, and develops a natural looking tan. The result can be built up very easily for darker color, too. Amazing product!

Very inconsistent results

I tried this based on some of the reviews here and it just didn't work very well for me. Some areas it looked ok, but then on others it was very splotchy. I think I like lotions better than sprays/mists.

Back
to top