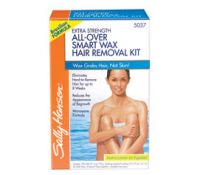 No no no!

I had been buying the Bliss Poetic Waxing kit but decided to try this out as a cheaper drugstore alternative. BAD IDEA. This was so difficult to use. I struggled to get the wax heated to the correct temperature and then it was sticky and messy and next to impossible to use. I went back to the Bliss kit and consider it money well spent.

Horrid!

This product was difficult to use, incredibly sticky, and simply didn't work. It was painful as it plucked at the hair but did not remove it. The wax got everywhere and refused to heat up to the appropriate temperature. When I finally got it right, the heat dissipated so quickly I couldn't use it. Bottom line: save your money and try something else.

try shielo

I was a little nervous about using the Shielo Leave In Protector at first (im VERY careful about what I put on my hair), but my fears were instantly erased the moment I first sprayed it in my hair. My hair felt STRONG! I didn't have any breakage, no tangles, and it was SHINY. I put the shielo oil in afterwards, left it in overnight. I didn't shampoo my hair until the day after that. Two days l...read moreater I had blonde highlights put into my hair which would normally turn my hair into straw for a few days, but this didn't happen. Give it a shot it will definitely help you.

Back
to top