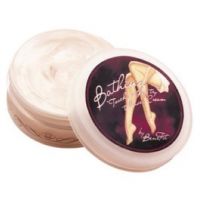 Small and Cheap-Smelling

Just because everyone on the Sephora website loves this cream, doesn't mean it's for everyone. First, I took one look at the container and I thought, "Thirty dollars? Are you kidding?" It seemed like an awful lot to spend on a bit of cream that you're supposed to use on your body. The smell didn't impress me either. It smelled cheap to me even though it was NOT "Cheap." Hahaha....read more To be fair, I'm learning a bit that I am getting older, darn it, and maybe certain brands really aren't for me. Anybody have a time machine?:-)

the perfect body cream!

This is the perfect body cream! Makes your skin soooo smooth and the smell is awesome. It's nice and natural, so you can layer it with other scents. Or you can build it up using Benefit's perfume Maybe, Baby! Totally worth it. It is expensive but a little goes a long way!

Love it!

I love this cream. It feels luxurious and has a wonderful scent. I used it frequently and my only complaint would be that it doesn't last nearly long enough, especially given the price. I guess if you only use it on your legs...It is thick so it's not something I used everyday.

Back
to top