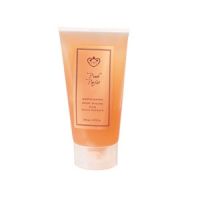 Jaqua Peach Parfait Exfoliating Body Polish
As low as
Great stuff!

This exfoliates better than anything I've ever used, plus leaves skin super soft and moisturized. Can't beat the smell, either! I was so impressed -- I used this before shaving my legs, and my shave lasted two full days (something that has never happened in my 46 years!). I usually get sharp stubble within a few hours of a shave, so that was miraculous for me. Wonderful stuff!

smells great

Use with a face cloth - there is enough grit in the product. Once in a while I feel like I haven't rinsed enough and there is a sticky film left. Feels worse that when you don't exfoliate. When I do it right, FANTASTIC. I got this in a combo pack. Everything has a sweet smell- this being the freshest/fruitiest.

Smells great

This stuff smells so good. Peaches are by far my favorite fruit. It smells good enough to eat.

Back
to top