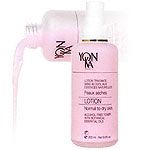 Not sure if this is doing anything for my skin

This might be breaking me out but I'm not exactly sure. It does make my skin very oily when I spray it on at night, don't use any moisturizer, and the next morning I have very oily skin. My skin right now is normal combination. The scent is very herbal. I don't really feel it hydrates my skin. The spray does not come out in a fine mist but kinda large droplets so I don't feel it goes on my face evenly.

The only toner I can use!

I have very sensitive skin, and generally toners will cause it to break out, even ones designed for sensitive skin. Lotion is great for me, my skins' happy and healthy.

Awesome smell

Whenever you use this lotion you'll feel like you just stepped out of a spa. It smells great. Has a tendency to make skin a little dry if used too much though. Once a day should suffice.

Back
to top