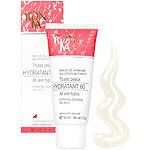 YonKa Hydratant 60 - Hydrating Botanical Gel Mask
As low as
Okay

I like this product, but I just don't feel like I am getting any real benefits from it. It goes on nicely, has a nice, light scent and texture, but it's just not something I can't live without.

YonKa Hydratant 60 - Hydrating Botanical Gel Mask

Liveing in the climate I live in where it is wet alot of the time.I was alittle relugent about a product that would act like a moisturizer. To my my sourprize it just went on smooth and there was no oily texture to the product.

YonKa Hydratant 60-Hydrating Botanical Gel Mask

After I turned 60 my skin changed as it was dry all the time. After using this product, my skin again felt smooth and supple. I also need that extra protection when I go out in the sun. It helps to protect my skin from the sun.

Back
to top