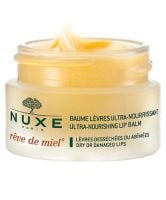 The best lip balm ever.

With the bad rating you gave this Nuxe Lune de Miel lip balm, I do not trust a thing you say. I LOVE this balm. It is fantastic, thick and matte, not shiny and slimy like most. I use this night and day and have thrown out everything else. I found this in Paris - where it is considered the best lip balm out there - and brought tons back. Thankfully, Nuxe has a website here and I can also buy it online. THE BEST LIP BALM IN THE WORLD. Love, love, love.

My absolute favourite!

I absolutely love this lip balm: it's the best for Winter cracked lips. I put it at night and the next day I wake up with amazing soft lips! I couldn't live without it!

NUXE lip balm

I am a big fan of this product. It nourishes my lips and fragrance is gorgeous. I apply it as a mask in the evening to wake up with baby lips. And in the morning under my lipstick or alone to have smooth and beautiful lips. Just love it.

Back
to top