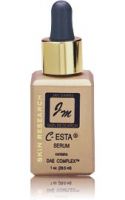 Quality Product

Started using this serum about six months ago and I really like it. I have been getting compiments a lot lately on my skin so I don't know if it's the serum...it does not break me out or cause any sensitivity.

Amazing for oily skin!

I have been using the entire 5-step line for a week, and although I had problems with severe drying and flakiness, this is one product that I really love. I use it on my forehead and down the bridge of my nose only, and I noticed improvements in the first 2 days. It's amazing for oil control, and though I didn't have "bad" skin, my forehead was slightly bumpy, and it is nice and smooth now. I w...read moreill definitely continue to use this product, and for me, a little goes a long way so it's not a huge amount of money to put out.

Great for Collagen

have used Jan Marini off and on for the last 4 years. Every time I use Jan Marini, my skin clears up. And, when I do break out, my acne doesn't stay for long. The Jan Marini system uses 5 products -- the bioglycolic cleanser, C-Esta, Bioclear, Moisturizer and Sunscreen. When I first started using this product, it real...lt made my skin dry and flaky because the concentration seemed high. That clea...read morered up in about 3 weeks, and my skin was moister and more hydrated underneath. This serum can tingle a bit when it goes on initially, but once your skin gets used to it, that tingling goes away. Jan's webinars state that this form of Vitamin C has been shown in tests to be stable for 2 years. So, when you buy these products, look at the Expiration date underneath. With the serum, make sure you get a fresh product with the expiration date out a long time. If you are within a couple of months of expiration, the product can be gritty and yucky. I like the serum better than the cream, but the cream is nice.

Back
to top