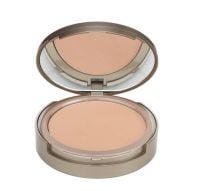 Got rid of my blackheads and acne caused by Bare Minerals!

I used Bare Minerals for 2 months and had to stop because the acne and blackheads got so bad (I had perfectly clear skin before I started using it) I tried Sheer cover (and it was ok but still looked cakey and dreaded Guthy Renker is AWFUL!) On e advice of my esthetician and dermatologist I tried Colorscience. California Girl matches my skin perfectly and I love the bronzer! It holds up throug...read moreh sweat, swimming, etc. I use the pressed simply because I make a mess with the brushes and I do find the brushes in the all in one brush sets fall apart. I use a brush from the body shop that is softer and doesn't shed. i buy the refill of the bronzer and put it in a clean old Bare Minerals container. LOVE IT LOVE IT LOVE IT!

Wonderful Mineral Powder

I just started using this product, and I was not sure about using a mineral powder, because I like great coverage. Well let me tell you, this is great coverage and last's all day, still looks great when I take my makeup off at night, and very light too.

great

I have been using this product for a year now and it covers very nicely and gives me an even look. Most of all it feels extremely light.