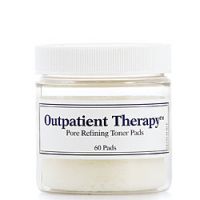 N.V. Perricone Pore Refining Toner Pads (Acne Care)
As low as
Not good at all

These pads are such a waste of money. The product smells and they are just your basic toner pads but really over priced. Maybe someone with extremely sensitive skin may like these but they didn nothing for me except make my skin smell.

Outpatient Therapy/Perricone Pore Refining Toner Pads

The toner pads are made easy to use! Plus, for clumsy sleepy heads like me, they last longer than liquid bottled toner which can spill and then half of a new bottle, wasted! The Outpatient Therapy however is more than just klutz proof, it's a great product for tightening pores. My skin after the first use looked better, pores smaller! My oily zones felt softer, less red. Some pore minimizers leave my skin too dry, but not this one. I think this product is both effective and gentle.

Perfection

This is one of the best products for those with oily/combination skin. I am able to use the toner pads year round without experiencing any dryness or irritation. They give my skin a fresh glow that lasts most of the day and my pores are clear of any debris. While I do have youthful skin, I have noticed an improvement in its texture.

Back
to top