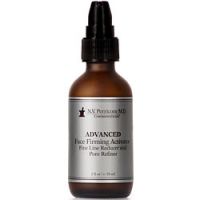 Editor's Rating & Review
An "advanced" version of the doc's best-seller, it's got higher concentrations of anti-aging ingredients (antioxidant alpha lipoic acid, hydrating hyaluronic acid, tightening DMAE) -- but is your skin ready to graduate? This is a derm-strength product, so unlike the claim, it can stress and shock skin, particularly if used daily, as recommended. Use every few days to simply refine pores. However, it doesn't "plump and hydrate" effectively; you will need moisturizer. And you'll suffer for beauty: It's expensive and smells like rotten eggs.
Reviewed by Kristen on 09/25/2007

How we review products
another product i believe in

i would buy this if i had the money to. but i guess for now i will have to just do with the samples..this product makes my skin more toned and smooth and "lifted". i would so buy this if i could...

Something fishy.

Could not get past the smell. It smells like ground up dried shrimp. Gross.

Nice Product but too Expensive

I really like this product. It softened my 11 lines and improved the overall look of my skin but the price is crazy! I was only able to try this because of a great sale. I'd love to use this regularly but I can't afford it.

Back
to top