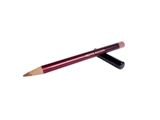 NOT WORTH ALL THE HYPE!

THIS PENCIL IS LIKE ANY OTHER PENCIL RANGING FROM DRUG STORE LIP LINERS TO DEPARTMENT STORE LIP LINERS. THE COLOR GLIDES ON SMOOTHLY, IT RUBS OFF EASILY HOWEVER. I WILL NEVER USE THIS PRODUCT AGAIN. I'LL STICK TO USING FLIRT! LIP LINER.

Expensive, but Worth It!

Please, please do not be put off by the price of this product - it is worth every penny. It can be used with both lighter and darker lipstick shades, applies like a dream, and is not as soft as others so you do not have to sharpen it as much. To me, it is a of much better quality than the less expensive pencils and isn't that worth it?

Not Worth The Hype!

This is the one and only Kevyn Aucoin product that they carry at my local Sephora store. Since it has such a huge cult following I decided to buy it despite the fact that it was $24! I used it, it worked, end of story. Was it any better than my $5 Almay or Rimmel lip pencils or even my $1.99 Wet and Wild pencil? Nope. It is a good product, but unless you just want it for the name it is totally not worth the price you have to pay.

Back
to top