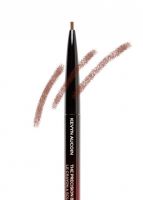 Upping My Brow Game

I have pretty thick brows as it is but the front of my right brow is a bit anemic. I like this product for filling in without it being obvious. The formula lasts well and blends very nicely. I use the Dark Brunette color, which goes nicely with my naturally very dark brows. It's a cool, almost black, brown. No warmth whatsoever. I also like that the pencil is so thin. It takes up so little space i...read moren my makeup bag. It's my favorite for travel. My only complaint is, since it's retractable, the tip dries out a bit.

Yay!

Ok, the reason I didn't give it 10 stars is because it could be more water resistant and I'd like more of a color choice. (Need more of an ash-tone)and it's 24 dollars USD. Other than that, THE best brow pencil I have used!!!!! The Brunette color has NO red tones. It is a neutral medium/dark brown. It's long-wearing and I love the narrow lead which allows for more control and fine tuning. I recommend!

Best Product for those of us who are obsessed with Brows!!

Thanks to all who wrote reviews on this product, which is what pursuaded me to try it!! This is the best eyebrow enhancer ever. It looks very natural and that isn't easy to find when it comes to blondes! This product stays put all day but comes off with cleanser easily. I will never go back to using anything else!!