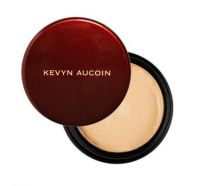 Diverse and Unique Product

I picked this up in the shade SX05 for my pale (MAC NW20) skin. I wanted it to be light enough to use as an under eye concealer but not so light that I couldn't use it on the rest of my face as a foundation. This product (in this color) works perfectly for both these purposes. I apply this under my eyes immediately following my daytime eye cream. It blends well and provides great coverage for ...read moremy dark circles that lasts an entire work day. I then apply this around my nose and t-zone area of my face because this is where I get the most redness and also because this is the area where my normal foundation usually breaks up first. This works wonderfully at concealing the redness and it lasts all day! It also keeps my skin looking even and smooth without settling in any lines, pores, etc. For the rest of my face, I usually apply a lighter, more liquid foundation and blend it with the center of my face that has the Sensual Skin Enhancer. Like others have said, a little bit of this goes a long way. It is so versatile because you can apply it by itself for a more full coverage look, or you can mix this with a creamy moisturizer for a lighter effect. This is fragranced but I actually like the smell of it. It is light and does not last for long. Applying this may take some getting used to because you will not be applying the same amount as you would a normal foundation. Still, I have not had any problem getting it right for what I am trying to do. The small jar is great for travel and despite its petite size, the concentration of the product ensures that the jar will last a very long time. This has a large shade range as well so most people should be able to find the right color for their skin. I love this and have used it every day since I got it!

Need Practice!

If you can ever get the hang of the application this would be a great product, because you use only a tiny amount and can be mixed with moisturizer to be used as a tinted moisturizer, concealer, or foundation. But if you are not able to spend the time or have the patience stay away from!

My Skin Hates This

I have combination-oily skin that eats makeup throughout the day. Every time I've tried to use this I end up with chunky, flaky patches of it buy quitting time. I wanted so much to like this. The color (SX 1) is spot on for my pale, neutral skin. But it was too creamy to wear under my eyes. And I hate the smell.