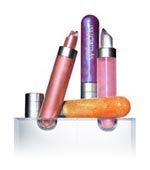 Nice Lip Gloss

Very nice lip gloss. I like the taste, texture and feel of the gloss. Great product for the price.

Create your own Look

This lipgloss has all the qualities of their regular lipgloss plus the benefit of the customer having the opportunity to mix and match colors to come up with the perfect color for them. I can't tell you how many times I've had to buy 2 lipglosses or lipsticks and wear one over the other to get the color I'm looking for. This custom blend eliminates all that. Not only do you get exactly what you want, you save all that money by not having to buy 2 of everything to get your look.

You'll fall in love!

You won't believe how much you'll love your lipgloss when you can customize the color, scent, etc. from scratch to match your mood, personality, and skin tone. Love, love, love these lipglosses! Not only awesome to wear, but extremely fun to go shopping for!

Back
to top