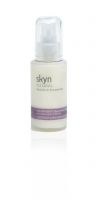 Editor's Rating & Review
More like a serum, this daily lotion gets mixed reviews, partly because it doesn't contain SPF. As the lotion dries to near-invisible, skin feels calm and tingly. But is that due to "Icelandic kelp," the menthol scent or one of the other many, many ingredients in the list? It's not exactly "quenching" in terms of moisturizer, so oily skin types may find it more appealing than normal-to-dry types. Word to the wise: Keep clear of your eyes. (Ouch!)
Reviewed by Charli on 09/25/2007

How we review products
Smells great, results so-so

I loved this, the consistancy is light, it absorbs well and feels great on your skin. HOWEVER: NO SPF so you'll still need to add it on.

Disagree

I like this lotion. It doesn't have an spf because it is for troubled skin and spf can be irritating. I have normal/combo skin and love the moisture this gives and find it fine.

Saved my skin from rosacea!!!

To say I have struggled with rosacea is putting it mildly. I have spent HUNDREDS of dollars, and endless trips to the dermatologist and had pretty much given up hope on my poor red skin. My local Sephora gal told me about this lotion. It is super tingly (almost icy feeling) when you first use it, and since I'm so sensitive I was a little freaked out. But I trust my Sephora skincare guru so I stuc...read morek with it and I am so glad I did. After 3 days the redness was gone and the little bumps were gone in a week. Even my boyfriend noticed! It's a little pricey, but after all I've been through it is so worth it.

Back
to top