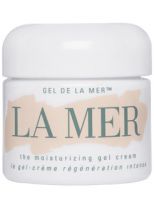 Great moisturizer

I have this gel cream moisturizer and though it is extremely expensive I can't see running out anytime soon. i barely need a dime sized amount for each application and it sinks in so well, leaving my skin soft and plump. I can tell a big difference in the mornings that I wake up after using my La Mer and the days that I do not. Also I use Retin A nightly and this moisturizer seems to work bette...read morer than most that I have tried to incorporate with my retinoid. I am not sure about the anti aging benefits as I have very fine lines beginning to form but only time will tell! I gave it a 9 due to the high price but if it works........

the saleswoman lied about the fragrance -- which made my sensitive skin burn

This product would normally be waaaaay out of my price range, but last week one of my magazines arrived containing a certificate for a free sample of a La Mer moisturizer, and I was curious enough to go and fork over my contact information to a sales person to collect one. The sales woman -- who had an utterly exquisite complexion, by the way -- had me try this gel moisturizer as well as the soft ...read morecream and the original crème de la mer, so I could choose one for a sample. I immediately smelled a light but obvious fragrance in all three and asked if there were a fragrance-free version, but the exquisitely-complexioned saleswoman insisted there was no added fragrance: "It's just the natural seaweed," she said. "Some people think it smells like the sea." I've spent enough time around the sea to know these products didn't smell like it, although it's possible they smelled like the potpourri you'll find in some seaside gift shops. In any case, I hadn't even gotten home from the mall with my tiny prize when the skin on the back of my left hand, where I'd applied the gel moisturizer, began to burn. This was followed by the skin on my cheeks (where I'd applied the crème de la mer) and finally the skin on the back of my right hand (where I'd applied the soft cream). Since I have rosacea and multiple sensitivities, I never, ever use any product that makes my skin burn, and I washed off all the La Mer immediately. I didn't even open the sample, but instead gave it to a friend (who was surprised and delighted). Later I googled the ingredients list, and discovered that… wait for it… these moisturizers DO include fragrance. It's entirely possible the effects are as good as they claim, but I'll never find out, because there's no way I can use this. In the end this is actually a positive learning experience for me, since it taught me to trust my own judgment (and what my skin is telling me) over the marketing and hype around any product.

Highly recommended

Highly recommended for those who wants to pamper their skin but not ready for something so rich as the cream de La Mer. This is the lighter version equipped with the same quality as the Cream de La Mer and it feels so comforting and soft to the skin. The down side is still the price tag and it'll be near to perfect!

Back
to top