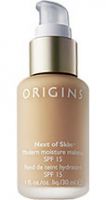 nice

I like the natural light coverage, it has a cool speraminty scent and is cooling on the skin. Kinda wore off by the end of the day.

Good

This stuff blends and conceals really well. I don't need concealer when I use this. My skin stays moisturized all day. The one problem is that it can get stuck in my pores making them a shade lighter (I have really big pores). I've only used this a few days, and so far I haven't seen a difference in my fine lines. If I see a noticeable difference, I'll update this post.

Good

I first was unsure about this because it looked cakey on--and then I started mixing it with my moisturizer. The combo gives me great coverage and it looks like I am wearing nothing. Plus I love the extra SPF. Even without the moisturizer, though, this foundation gives great coverage, making your skin look even and clear.