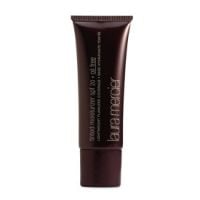 perfect coverage

it took me a while to stray from my lancome aqua fusion tinted moisturizer (which i still love btw!) but everyone's been raving about laura mercier's product that i had to give it a try. i opted for the oil-free version since i have that t-zone shine =( at first i was worried that it wasn't moisturizing as well or providing the right level of coverage - then i discovered just the right amount to ...read moreapply and i'm impressed! as a moisturizer, my cheeks are no longer dry or flaky (although i also use a layer of regular moisturizer underneath) and as a "tinted" version, it works in evening out red tones without feeling too heavy - i can hardly tell i'm wearing anything. plus SPF. what sold me though is that my t-zone is less shiny! definitely worth the extra $$$.

Best stuff ever made

I bought this because I kept hearing so many great things about it. The first day I tried it I was completely in love. I would normally wear MAC Studio Tech in NC30 and I always felt it clogged my pores. Well since summer is here, I wanted to get something light but with enough coverage to even out my skin tone. So I decided to get Laura Mercier Oil Free tinted moisturizer in Bisque. OMG its amazi...read moreng, it really gives me the coverage I need without clogging my pores and giving me just enough moisturizer. It also has SPF20 which is also great to protect the skin. I use MACs 187 stippling brush and it goes on sooo smooth. You must try this out to see exactly what I mean.

MADE MY COMBO SKIN BREAKOUT!!

I have the worst combo-skin ever but I heard wonderful things about Laura Mercier's Oil-Free Tinted Moisturizer and gave it a try. For the 1st few days it was fine...I liked that it gave me a natural look and wasn't heavy. Then all of a sudden I started developing cystic acne and blackheads on my cheeks...I thought it was due to it being Summertime, then my boyfriend suggested I stop using this pr...read moreoduct. And once I stopped using it my acne issue dramatically subsided...even though it didn't agree with my combo-skin, I think people with normal skin that's not sensitive will love this.

Back
to top