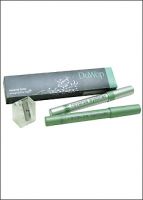 DuWop Reverse Time Lipliner & Eyeliner Pencils
As low as
Better off without this

I have the reverse lipliner. I initially bought it to stop bleeding of the lipstick. Though when you use this you the area around your lips is too moist to apply lipliner. It does not go on smooth when you use this product. For me it was a waste of money - my lipstick and liner stays on longs without this product.

I like it.

The product is perfect for people who wear glosses. It keeps the color from bleeding outside the liplines. It also helps with the little wrinkles around the lips. However the newest product to the DuWop line...the plumping lip balm....is the biggest waste of $20.00 I have ever spent.

I love the way these Work

One of my biggest problems was that my eye liner would smudge after a few hours, this prevents that, I love it.

Back
to top