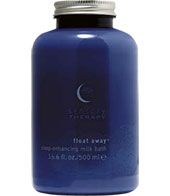 nite nite!!

I love the fact that this is not a glass container!! I used this product when I was having sleeping trouble and it worked wonders! I love the calming scent and the milk like texture.

I love this stuff...

I have the hardest time falling asleep. This makes for the most relaxing, soothing and moisturizing bath. Slip into some soft PJs and you are a goner!

21 Best Soaps

Exclusively from the editors at Total Beauty

Get the Buying Guide to see these top-rated products!

Get it now »

An Insomniac's "Dream"

This stuff works great - the luxurious scent and smooth as satin sensation of the water once this milk bath has been added is like spending a fortune at the spa, without spending the fortune and without worrying about who else has used your tub. This will help you relax and be whisked away into a calmer place, a place that will allow you to fall asleep, dropping all the cares of the day away like leaves in Fall.

Back
to top