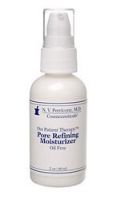 N.V. Perricone Pore Refining Moisturiser (Acne Care)
As low as
Pore clogging.

The fourth ingredient listed in this is Isopropyl Palmitate, it's slightly mind-blowing that this product is listed as non-comedogenic when one of it's top ingredients IS in fact comedogenic.

Want small pores and hydrated skin?

This is good, way good. My skin is smoother and my pores are smaller since I started using this moisturiser a couple weeks ago. I prefer it over my usual moisturiser because it hydrates my skin without the use of pore clogging oils. I love NV Perricone products, and this one is perfect for moisturizing aging skin and keeping pores tight.

Best Ever for Oily Skin

This is one of the very few moisturizers that actually made my face glow (wothout looking like a greasepit). Very light, with just enough moisture to smooth out your complexion, and improve the look of your skin while keeping you from breaking out. I have horrible acne and this moisturizer along with the cleanser, has made my skin look better than ever!

Back
to top