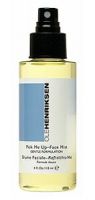 Ole Henriksen Pick Me Up Tonic
As low as
Pick Me Up face Tonic

Just recently purchased this and I have to say that I am pleasantly surprised. I was so used to astringent "type" products leaving my face feeling stripped'. Well I feel I have found the BEST of BOTH worlds- astringent 'type' results: renewed feeling skin, that squeaky clean feeling, and of course MINIMIZED PORES!!! ...with NONE of the downside: dry, irritated skin!

love it

I don't know why this stuff made me so happy. I found it for 12 bucks at a TJ maxx and gave it a try; it was well worth THAT price! The smell was really nice, skin felt clean, not stripped, and I wish I made the kind of money that justified paying full price for it...

Love it

This stuff is too cool. It smells wonderful and feels great on my face. I've used this and his 'Three Little Wonders' and am impressed with his products. Great products that really do work. I use this before moisturizing and sometimes after I've applied makeup to set it.

Back
to top