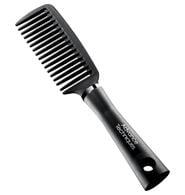 Review subject

This is a great comb. I use it on myself, and my two daughters.

Good

Good for thin, knotty hair

Avon Advance Techniques Detangling Comb

I had nothing to lose but tangles when I decided to try this comb, as my mom has been an Avon lady for 25 years and buys more than she sells, often to my benefit. I have long, waist length hair and combing it out is a mission in itself. I often comb conditioner through my hair in the shower, as it is the only way to make it somewhat manageable. This comb has wide teeth which are particularly effec...read moretive at removing tangles. Remember to start at the bottom and work your way up and also work in sections. Rome wasn't built in a day and if you have tangles at all like mine, it is going to take awhile to remove them. I like to keep this comb in my beach bag so when I am by the pool or the ocean I remember to comb out the knots, without crying like a baby. I would recommend this comb if you have really tangled hair and a lot of patience.

Back
to top