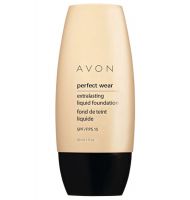 Avon

I really like this stuff. It matches my neutral skin tone perfectly, which is difficult to find in a lot of inexpensive foundations. Most of the time, they are too pink or too yellow. But this was perfect. It also covers up my red spots without the help of a concealer. It also looks so natural on my skin. You can't even tell I'm wearing it. A customer even told me I had beautiful skin! I've never ...read morebeen told that before. :) Now, onto the claims. It claims that it is sweat proof, humidity proof and transfer proof for up to 12 hours. It did not last for 12 hours, which isn't really a big deal to me because I am rarely out and away from a mirror for 12 hours. However, I do work in a fast food restaurant. And, of course, fast food = french fries, and french fries don't make themselves. I have to work the fry machine and all of the heat and grease from it attacks me and leaves my face greasy. I'm getting a bit off topic here. Long story short, I was really looking for a foundation that left my face non-greasy for at least 6 hours. This was soooo close to making it. Whenever I looked in the mirror after two hours of working, it looked amazing still. Two more hours later, I could see the grease spots coming, so I blotted my face with tissue paper. I look on the tissue paper, and there is a huge smudge of foundation on it! I look on my face, and you can see the redness of my face. Definitely not transfer proof, but you know... the frymaster is out to kill :P. So, I did need to touch up at work, which was expected because all of the long-lasting drugstore foundations gave me the same results, but I did not like them nearly as much as I like this one. On a regular, non-working day, it is beautiful. I have no complaints. I don't have to touch up at all, unless I have a really bad blemish on my cheek or something, but I just cover it up with concealer. Overall, I am impressed with this and I am definitely going to repurchase. But maybe I'll buy a new finishing powder...

Great Foundation!

I love this foundation.....It goes on smooth and even and looks great all day long! I have never been as happy with a foundation as with this..It is wonderful!!! I love it and I love the price!!!!!!!

The best!

I've tried every foundation you can imagine and none have been as impressive as this one! It goes on smoothly and evenly and it lasts all day. Very inexpensive, too!