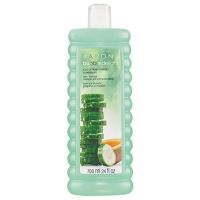 Luscious Way to Get Clean

Admit it--you probably have a bottle of Avon's original pink bubble bath in your bathroom or linen closet! This has been around longer than I have, and it provides a wonderful, frothy way to get clean. New scents such as "Vanilla Cream," "Pomegranate and Peony," and "Fresh Peach" just make life more pleasant. When these are on sale, I scoop up an armful! My husband loves to let the foam collect around his feet while he showers and swears that nothing softens his skin like it.

Very Nice

These are so cute, nicely scented, very fun for the whole family....yeah my guy likes to smell good in the bubbley too!

21 Best Soaps

Exclusively from the editors at Total Beauty

Get the Buying Guide to see these top-rated products!

Get it now »

These are great.

My mom used to buy these when I was a kid, and they're great! They make the bath nice and bubbly, and are reasonably priced, especially when you can get some on sale! I love how they have so many scents too.

Back
to top