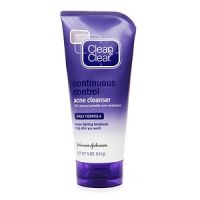 great cleanser

this cleanser was gentle and cleared up some of my acne after a week.

I've Seen Better Days Without It

Oh how I remember this. High school puberty years, oh my. I remember this as one of my first attempts of getting rid of the hormonal acne I was developing and found that it was irritating. After washing my face, I found it a little tight which got even tighter by each use and dry. I also didn't like the smell too much as it reminded me of a pharmacy shelf and to be able to withstand that for a...read more couple weeks, I wanted results. And results, I saw none. After probably finishing two thirds of this, I tossed it into the bathroom disposal and never paid attention to it since then.

Good but not great.

I wouldn't get this stuff near me eyes if i were you, the menthol is nice in the mornings but not in your eyes. This did kinda clear up some acne but irritated and dried my skin more, making it more oily in the end.

Back
to top