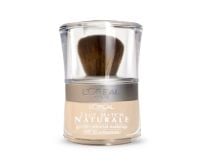 L'Oreal's "Mineral Mess"

I tend to gravitate toward all things L'Oreal--this company has proven itself with excellent products time and again. I was pleased with the shade range for this foundation and chose one which was virtually my own. But the powder was thick and chalky. I thought the applicator would make things easy, but it left uneven coverage and streaks. I used another brush with somewhat better but still un...read moresatisfactory results. In essence, it did nothing to enhance my complexion; it sat atop my skin looking dreadful. I should have returned it.

You will love it!

This is comparable to the more expensive mineral products, and I love that the brush is part of the powder.

A Waste of Money!

I had tried Bare Minerals and it was expensive and the coverage left a lot to be desired. I decided to try Loreal's Mineral line and I did not like any of the products, and this product I liked least of all. This "concealer" does not like to stay on your skin much less on blemishes or under eyes. This concealer does not apply evenly (even with my own brush) and it covers nothing. I did try thi...read mores with a primer and had no luck. I have combination skin and this concealer clung to my dry skin, and melted off my oily spots. If you like mineral products, Bare Minerals Bisque (concealer) should still be your first choice. Loreal doesn't hold a candle to Bare Minerals!