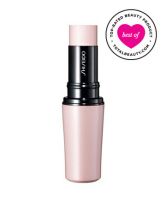 Swivel stick surprise!

WOW! This is an all over usage but, I'll stick to my cheeks. I use this after foundation and before any type of powder. It makes a great base for your normal powder blush or you can use it alone for that sexy flush. The depth of colour is up to you. Great for dry skin especially in the winter, and great in summer for most skin types. Chose your hue!

I like it - Champagne Flush

It is most versatile tool for highlighting, the result could be everything just from modest bare-there glow to satiny shine, and all varieties in between. You can put it under or on your browbone just for little highlighted spot or on your foreface or cheekbone for more blended sheen. Can be used on your eyelids as well. I cannot describe it's smell - it means that it did not annoy me. It blends...read more very well, no matter how it was applicated, it could be dabbed directly from stick and blended with fingertips, or you can use a brush, whatever. I love to add this a little bit when I massage some oil in my cuticles, it gives super-groomed glow to fingertips. Its a bit pricey, but there is enough product for the price. Hence is the result, definitely no cheap look.

O yea!!!

I absolutely swear by this one!!! It gives u sheer yet buildable color that is long-lasting. It blends beautifully and u can get many looks from it. Its a lil expensive but u get wut u pay for and this one is well worth it, trust me...

Back
to top