featured formal hairstyles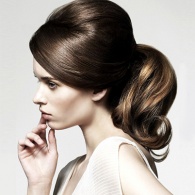 Are you anxious about which hairstyle to choose for your special occasion? Wondering which hairstyles are in vogue and which hairstyles would add glamour to your event? Total Beauty's formal hairstyles guide has all the information you need to choose the hairstyle that's perfect for your event. Whether you're attending a wedding, prom night or any other formal occasion, with every hair in place, the evening will be everything you hoped for and more.

Formal hairstyles come in a variety of shapes and styles. Special events require hairstyles that complement your hair type and face shape. Hairstyles for a formal occasion should also be elegant and work in sync with the dress and accessories. Such popular hairstyles include the classic chignon, curls, plaits and more.

Browse through our photo galleries of celebrity hairstyles and makeup looks to decide which look will match you best. Our beauty experts can then help you recreate the hairstyles and makeup through step-by-step instructional videos and articles, as well as with quick tips and tricks.

Formal hairstyles and makeup need to be kept in place if you don't want your look ruined by the end of the night. Check out the product section on Total Beauty to find the products that will work best with specific hairstyles and makeup.

Discover other beauty secrets and hairstyles at Total Beauty. Once you're set for your occasion, don't forget that a smile is the perfect accessory.