Posted by Dawn Davis 04/29/13 at 02:19PM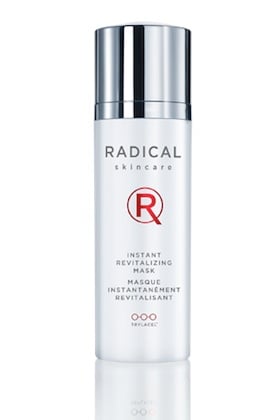 Something was wrong with my skin last week. I'm not really sure what caused it -- I hadn't changed much, product-wise -- but my complexion was so lackluster. My best guess is that it had something to do with allergies -- the trees in New York City are raining petals right now -- but that's just a theory. Regardless, I wasn't happy about it.

I took home the Radical Instant Revitalizing Mask, $65, basically hoping for a miracle. I'd watched this video about it, and I was intrigued. It contains green coffee, which is a very hot ingredient right now, as well as Sodium PCA and Vitamin E -- and they're all delivered to the skin through a fizzy, oxygen-infused process.

While my husband was still sleeping on Saturday morning (face masks "freak him out"), I applied it and let the bubbly mask do its thing. The mask felt tingly and effervescent for about 10 minutes. Then, I rinsed it off and applied my regular antioxidant serum and moisturizer. I noticed an instant brightening effect, and my skin felt hydrated all day -- it was amazing. You can bet I'll be breaking it out again next time I have a bad skin day.