Posted by Dawn Davis 04/30/13 at 09:09AM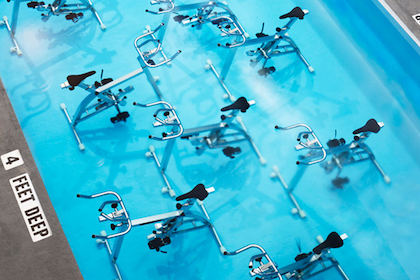 New York City is a hotbed of fitness fads, and thanks to studios like SoulCycle and Flywheel, spinning is the most popular among them. But when I first heard about aqua cycling -- a spin class where the bikes are submerged in a pool like shipwrecked gym equipment -- I was skeptical. Isn't the spin market saturated? Aqua cycling may be trendy in France, but does that make it any less ridiculous? (The French aren't exactly known for their exercise prowess.)

Well, it turns out I was wrong. Yesterday morning, I put on the sportiest swimsuit I could find and headed down to Tribeca to visit Aqua Studio. The entire way there I felt like I was forgetting something (sneakers? Workout clothes?), but the Aqua website had assured me, "all you need to bring is your swimsuit. We take care of the rest." And they weren't kidding.

I walked into the tranquil, loft-like space about fifteen minutes before class. After checking in at the front desk where I was given a towel and clear jelly shoes, I stopped by the beautiful locker room one level down to stash the few things I had with me. The women getting ready for class were chatty -- they clearly knew each other -- which surprised me given that the studio has been open less than two weeks. But I later found out that there's already a dedicated clientele taking class almost daily.

I headed down another flight of stairs to the pool level where candles were burning and Bruno Mars was playing. The instructor, a lithe French woman named Emma, told me to rinse off before getting into the water. Then, she asked my height and adjusted my bike accordingly. We reviewed the various positions, which are basically the same as a regular spin class with the exception of "fourth position" where you float behind the bike, treading water, while your feet remain strapped to the pedals.

The rest of the group trickled in, got situated on their bikes, and we began our ride (swim?). In some ways, it was like a traditional spin class. There are sprints, and you transition from standing to sitting positions. Almost everything else, however, is different. There's no resistance knob on the bike -- instead, rudders turn as you pedal to create resistance. While many spin classes now incorporate arm workouts, my class at Aqua was seriously arm intensive. We were constantly using our arms, working against the resistance of the water -- and things did get a little splashy at times. (If you'd like to preserve your blowout, I suggest wearing a scarf around your head and/or selecting a bike in one of the back corners.)

By the end of 45 minutes, I was just as tired as I am after a high-intensity spin class, but I was also more relaxed. I thought I sweated less, but Emma explained that the salt water actually makes you sweat more -- you just don't realize it because you're partially submerged. Prior to class, I had been worried I would feel self-conscious and jiggly, but my legs actually felt light and lean in the water, and I loved the sensation -- the water massages your muscles as you pedal.

As for the benefits, the Aqua website claims that you can burn up to 800 calories per hour of class, water friction can help with cellulite by stimulating your lymphatic system, you'll sleep better, and you won't be sore the next day. While I can't guarantee the first two, I can attest to the rest. I had a fantastic night's sleep, and I feel amazing today.

At 40 dollars per drop-in class (plus two dollars for shoe rental), aqua cycling is pricey. Still, I think it's worth the splurge from time to time -- it might just be the prefect treat after a stressful week.