Posted by Total Beauty 04/09/13 at 01:28PM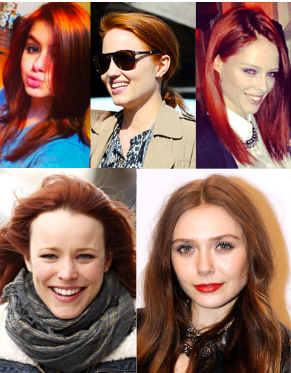 Red is in the air… And we're not surprised. With the success of red-haired stars like Jessica Chastain and Christina Hendricks, who wouldn't want to try this fiery hair color?

With so many celebs going red just in the last few weeks, here's how we imagine things went down: Ariel Winter snapped a photo of her red hair on Instagram, then Dianna Agron decided to go red and debuted her new hair color in West Hollywood. Coco Rocha spotted Agron and thought crimson hair would make a bold statement. Then, Rachel McAdams told Elizabeth Olsen that they should both try an auburn tint. Just a guess -- and we're hoping this trend continues.

We also have a list of stars we wish would go red, and Lauren Conrad is at the top. She's been a blonde for like, ever. It's about time she experiments with a brighter color, don't you think?

Olivia Wilde would also look amazing in red. Ever since she premiered her auburn to blonde ombre color, we've wished she would take it up a notch and go full out ginger.

Finally, there's Beyonce. She's been blonde, brunette, and everything in between --except red. We think the color would be perfect for the self-proclaimed diva.

Tell us, which celeb would you want to see go red?