Posted by Dawn Davis 04/03/13 at 04:42PM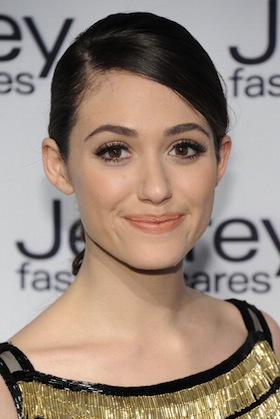 I've had the pleasure of interviewing Emmy Rossum before, and she's as sweet as you'd imagine -- and even more beautiful. She looked particularly stunning at a charity event in New York City last night, and I have the scoop on her 60's-inspired makeup. It was created by one of my favorite celebrity makeup artists, Jake Bailey, who told me the key to modern mod is one thing: perfect-looking skin.

"I focused a lot on skin texture -- that's how you modernize a period look," says Bailey. "Glowy skin is what people are looking for now -- not the matte porcelain look." He exfoliated Rossum's skin with Biore Acne Clearing Scrub before applying a lightweight moisturizer and foundation with a kabuki brush. He also used a cream bronzer on her cheeks and a dusting of powder over her T-zone to get rid of any shine. "I left the outer areas of her face unpowdered so they'd glow," he says.

After perfecting the skin, Bailey focused on the eyes using a waterproof YSL cream liner. He even drew mini lashes on the lower lash line for an Edie Sedgwick-like effect. Up top, he used a lash strip from Ardell called Demi ("It's one of my favorite lash styles," he says.) followed by mascara.

The finished look may have been mod, but it was definitely wearable -- and easy enough to do at home. Would you try it?