Posted by Total Beauty on 03/21/13 at 05:11PM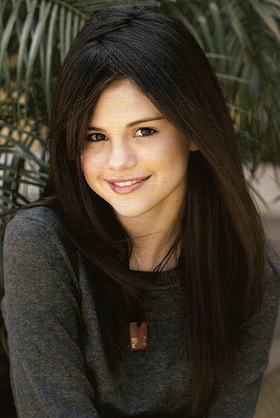 Selena Gomez has gone from Disney darling to girls-gone-wild with the release of her new movie, "Spring Breakers," out tomorrow. Now 20, Selena feels that she's old enough to push herself into new roles -- although she did ask her youngest followers not to watch the R-rated movie.

But let's take a moment to appreciate her glory days: when she was a young starlet on "Wizards of Waverly Place." She seems just as adorable now as she looked back then -- I can't think of her as a sex symbol.

You aren't fooling anyone, Selena!

By Lila Glick
Read More »


Posted by Total Beauty on 03/20/13 at 12:30PM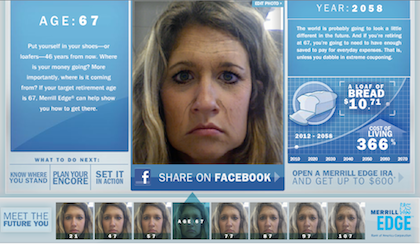 Bank of America and Merrill Edge have launched a website called Face Retirement to motivate clients to think about their financial future. According to Merrill Edge, an age-enhanced image of your future wrinkles and sagging skin will make you more likely to save.

Intrigued by a glimpse into my future, I gave the website a go. And wow, is it scary. However, I'm less afraid of the dramatic increases in the cost of living that the site provides than I am of my sad, sad jowls. In fact, forget retirement: I'm more inspired than ever to spend big bucks on anti-aging creams, sunscreen, and green juice. Thanks for the beauty help, B of A!*

*Clearly, this tool is not intended for beauty editors or the beauty product-obsessed set.


Read More »


Posted by Total Beauty on 03/20/13 at 10:00AM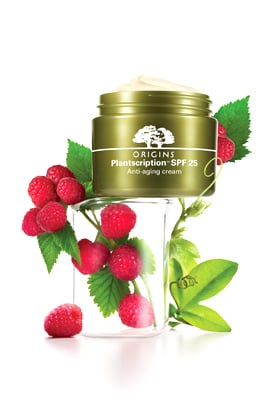 We're on a never-ending quest to end wrinkles, and we've tried more creams, serums, and lotions than we'd care to admit. But finally, it seems like the good people at Origins have got our back.

The new addition to the Plantscription line -- Plantscription SPF 25 Anti-Aging Cream -- helps improve skin firmness, moisturize, and protect against UV damage (which we all know is what's causing those wrinkles to begin with). Their testing found that 83 percent of people who tried the cream saw an improvement in their lines and wrinkles in just 4 weeks.

If you're itching to get your hands on this wonder-product, check this out: For a limited time you can get a 1-week supply of Plantscription SPF 25 Anti-Aging Cream for free with any purchase on the Origins website. Just use the code CLEAN…
See more »


Posted by Total Beauty on 03/19/13 at 02:37PM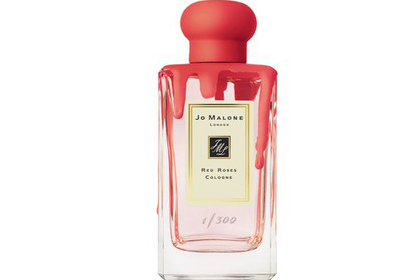 Jo Malone Red Roses is getting a makeover courtesy of Charlotte Stockdale, the brand's relatively new style editor. On April 1, the world will finally see the fruits of her labor: a totally revamped Red Roses.

Stockdale is making her mark by having 300 engraved bottles hand-dipped in neon pink paint.(Stockdale's obsession with electric hues started with a pair of Sergio Rossi stilettos, FYI.)

For one week, the 300 limited edition bottles will be available at Selfridges in London in a specially curated "Charlotte's Corner" that will also house vintage finds sourced by the stylist. Every purchase will also come with a customized Jo Malone carrier bag treated with -- surprise -- neon paint! For those of us on this side of the pond, the dipped bottles can be ordered on…
See more »


Posted by Total Beauty on 03/18/13 at 01:59PM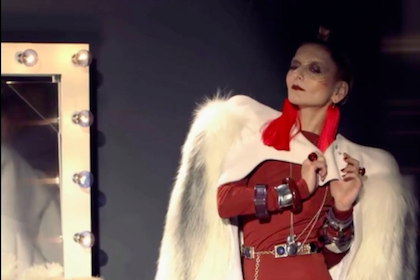 Ever want to direct your own beauty ad? Nars is letting you do just that! The video for the new Satin Lip Collection is interactive -- which means you decide which lip colors musician Sarah Ruba and stylist Catherine Baba wear. Source: Refinery29

Looks like model Cara Delevingne is continuing her quest for world domination. On the heels of becoming the new face of Burberry Tender, the It girl has also signed on to be the face of Yves Saint Laurent Beaute's new Baby Doll mascara. Source: Bellasugar

Not be upstaged by YSL's latest model acquisition, Chanel recently released their new beauty ad featuring Brazilian beauty Gisele Bundchen, the face of the brand's Les Beiges campaign. Source: Huffington Post Style

Word is that Prince William is hoping for a daughter. Kate Middleton,…
See more »